14 Jul 2023
Despite a difficult 2022 for technology stocks and continued macroeconomic uncertainty, with H1 2023 now firmly in the rear-view mirror, public markets appear eager to lift off again with the NASDAQ up a remarkable 32%, the best first half performance in 40 years.
Driving this rally is largely widespread bullish sentiment surrounding AI innovation, which was sparked at the start of the year with OpenAI's rapid iterative releases of its Generative AI chatbot - the latest being ChatGPT-4 - and Microsoft's $10bn investment in the company at a $29bn valuation. This was compounded by impressive Q2 earnings for large corporates such as Nvidia; the result being soaring valuations for AI-related companies in both the public and private markets.
As the chart below shows, while overall VC fundraising activity remains depressed, down 50% YoY in Q2 2023, as a share of funds raised, investors and large corporates such as Google/Alphabet, Microsoft, Nvidia and Salesforce are increasing investment in AI/ML startups.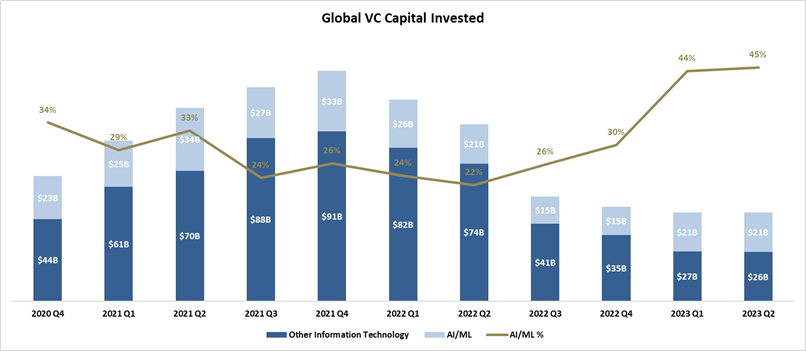 Source: Pitchbook as of 10th July 2023
According to PitchBook's H1 2023 VC Tech Survey, over two-thirds of investors surveyed (70.7%) believe it's likely that Generative AI will spawn a new wave of technology unicorns over the next five years. Indeed, AI startups made up half of all new unicorns created in H1 2023 and have reached these valuations nearly twice as fast as the average $1Bn startup, with 17 new AI unicorns minted as of July 10th. The fastest growing companies, and especially AI companies, are again trading at very high multiples valued primarily on growth.
Some recent deals that illustrate the feverish FOMO climate for AI:
29th June
inflection.ai founded just last year and currently showing less than 40 employees on LI, raised $1.3bn at a $4bn valuation in a deal led by Microsoft, Nvidia and Reid Hoffman. Put another way, the company's employees have already created $32.5m of value each. Not too shabby.
typeface.ai raised a $140m Series B round in a deal led by Salesforce Ventures, with Microsoft (again), Lightspeed Venture Partners and Menlo Ventures also participating. Like Inflection, Typeface was also founded just last year and has less than 50 employees. The company's founders include Abhay Parasnis, who was previously CTO and CPO at Adobe and currently Board member at Dropbox and Schneider Electric.
runwayml raised a $191m Series C round, extending their raise of $100m in May which valued the company at $1.5bn. Salesforce Ventures, Alphabet and Nvidia invested in this company as well, with other investors including Coatue Management, Lux Partners and Amplify Partners.
26th June
In the largest AI acquisition to date, databricks acquired mosaicml for $1.3bn, inclusive of retention packages. The deal is a strategic pairing of Mosaic's cost-effective LLM training and deployment platform + Databricks' infrastructure. Training LLMs has so far typically cost upwards of $4m or more, however, Mosaic's platform enables training of GPT-3 grade LLMs at just $500k or less and enables customers to train LLMs using their own data.
13th June
mistral.ai a Paris based startup just over 2 months old, whose website currently says simply "we're assembling a world-class team to develop the best generative AI models", raised $113m at a valuation of $373m in a deal led by Lightspeed Venture Partners. The team of three co-founders is made up of AI researchers from Meta and Google.
8th June
cohere partnered with Oracle in a $270m Series C round which valued the business at $2bn, with Inovia Capital, Nvidia, Salesforce Ventures, SentinelOne, Index Ventures and Alphabet also participating.
23rd May
anthropic raised $450m Series C round at a $5bn valuation in a deal led by Spark Capital, Salesforce Ventures, and Zoom Ventures, with Alphabet also participating and builder.ai raised $250m Series D round in a deal led by Qatar Investment Authority, with Microsoft, Insight Partners and ICONIQ Capital also participating.
Are you noting a trend here? Nvidia, Microsoft, Salesforce, and Alphabet/Google are each making multiple investment bets in AI. Typically, investors try not to invest in companies whose products are in too similar of markets, but that strategy has gone out the window in AI, where the risk of losing out on any investment is of far more concern than investing in multiple companies that may someday compete against each other.
The large sums being raised also reflect a different type of cost structure than we are used to seeing with typical SaaS startups, which scale rapidly while keeping fixed costs low. OpenAI has projected that the cost of training large AI models will increase from $100 million to $500 million by 2030, with the cost of training a single model ranging from $3 million to $12 million. For large datasets that can be even higher, reaching up to $30 million. The high fixed cost structure and relatively narrow set of highly skilled AI engineers and researchers enables the right people to raise >$100m at times on little more than a concept and a team.
With the speed of investment and product innovation, horizontal AI is quickly becoming a unicorn's game, owned by only a select few of the large strategics.