Thursday, 16 Oct 2014
The FinTech50 2015 STARTS ... HERE

2.00pm - 8.30pm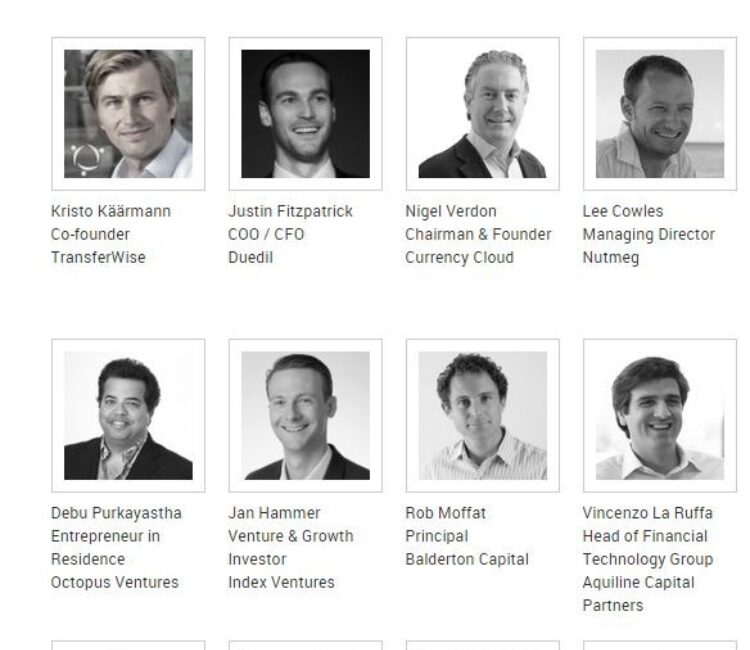 THE FINTECH50 2015 STARTS .
.. HERE
This year we wanted to celebrate The FinTech50 2015 before the final 50 is selected with an invitation-only event for the FinTech community across Europe.
Over one afternoon and evening on Thursday 16 October, hosted by UBS, you are invited to meet FinTech funders, superbrands, investors and start-ups as they share their experience, stories and ambitions for the future.
From 2pm - 6pm leading VC investors will talk funding. Our global tech panel will discuss what they look for when investing or acquiring a business. And five FinTech Superbrands will share their experiences of building a successful business in the UK's hottest technology sector.
From 6pm
onwards we will invite ten new FinTechs to give a 90-second presentation — each. Then round the day off with drinks, canapés and an opportunity to meet our panels and guests.
Speakers include leaders from:
Google, Microsoft, Fiserv, moneysupermarket.com, Index Ventures, Balderton Capital, Octopus Investments, Funding Circle, Nutmeg, Currency Cloud, Duedil, TransferWise and investors from across the pond, Silicon Valley's Expansive Ventures and New York based private equity firm Aquiline Capital Partners who investing globally in financial services enterprises.
Thanks to our strategic and event partners:
UBS, Silicon Valley Bank, HotwirePR, Quant Capital, The UPGroup
The event is invitation only and places are strictly limited. If you are a FinTech CEO. FinTech investors or acquirer and would like to go, please contact lisette@iconcorpfin.co.uk
Date: Thursday, 16 Oct 2014
Start Time: 2.00pm
End Time: 8.30pm
Address: